This weeks topic is Doom and Gloom - a topic last visited by the LBC, the precursor to the current 2-on-1 blog posts six years ago - hence Pt II. If you wonder what I said six years ago, click here.
Be sure to check Ramana's Musings to read Ramana's take on the topic.
FYI, Merriam Webster says doom and gloom is
sad and tragic events : a feeling or attitude that things are only getting worse.
Life is a series of challenges - I'll wager most of us have been behind the proverbial eight ball at some point in our lives, worried about making ends meet. Just providing the essentials - shelter and food becomes a challenge. Somehow we muddle through, be it God's will, hard work or maybe even good fortune. Every problem has a solution - just press on until you find the answer. Some folks have a half empty glass, some have a half full glass and some folks don't even have a glass. (I hope those glassless folk at least have a full bota bag as it is always nice to have 2L of good red wine to help you get through the day.
Today our society seems more divided than ever. We have evidence a hostile foreign power meddled in the 2016 and 2018 elections and is continuing to do so now that campaigning for 2020 has begun. Some view the apparent lack of concern shown by the current administration criminal while others believe all problems stem from our southern border and it is a national emergency that can only be solved by allowing the president to divert already committed funds to the tune of almost 9 billion dollars from other areas.
Every nation has grounded a new Boeing aircraft - 737 Max 8 that has been in use for under two years because of two crashes within a month resulting in over 200 fatalities. The FAA, BTW, has ruled it safe. Some have also banned the 737 Max 9

Is the
sky literally falling? It is not a good time for Boeing, that is a certainty. Technology running amok?
Then there is the weather. Global warming debunkers are having a field day making snide comments during this frigid winter. The irony that climate change is caused by global warming is lost on them. Burning fossil fuels is something that we need to reduce and eventually stop. The steady rise in temperature will have disastrous results unless we are prepared. Doom and gloom? Entirely warranted in this instance. It matters not one iota if the warming is caused by people, assisted by people or purely an act off God or Mother Nature. It needs to be addressed.
`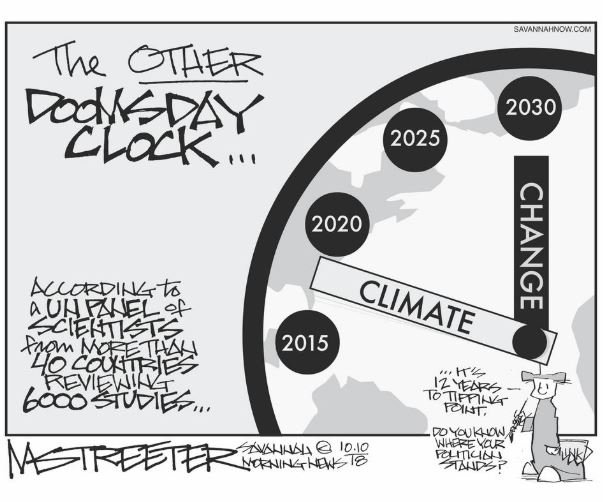 We are in the midst of an economic boom that shows there is still substantial economic strength in the world economy. We should be able to deal with whatever comes our way. Unemployment is at rates never before seen, but there is a degree of deception built into those numbers. Not everyone is employed in a job that allows them to make a living. Many people work second jobs and still struggle to make ends meet. this does not apply solely to workers in the fast food industry - teachers in many areas face the same struggle. Not only are teacher salaries too low in many instances, they work in educational systems ill equipped to prepare students for entry into the real world. If teachers were paid like babysitters. Of course there are those who feel teachers are overpaid and they get 3 months of annual vacation. Yet EVERY teacher I know pays for a percentage of their student's supplies.
We live in a time where wealth is concentrated more and more in an increasingly small percentage of our population. There is a brewing debate about wealth distribution and a debate about the merits of capitalism vs socialism and democratic socialism. The right conflates socialism with communism but the reality here is NOT that the government owns and operates the means of production but increasingly here large companies seem to own and operate the government.real power is increasingly concentrated in the hands of fewer people just like wealth, pushing toward an oligarchy. Yes, I realize I have somewhat oversimplified the issue but look at what has been happening. There will come a time when that snowball rolling down the hill will be unstoppable. Something to think about.
So here we are - in a rapidly changing world with various and sundry swords of Damoclese hanging over our heads. China, Russia and the USA are the largest players with India not far behind, all vying to be the big dog on the block. Russia's economy is too weak, China steals innovation from the USA. Foreign countries hold over 6 trillion dollars of US debt, with Japan and China each holding over a trillion each. We added over a trillion in US debt last year when we issued huge tax breaks to the richest in the country.
It would be easy to be overcome with despair, doom and gloom. But, we seem to do best when our backs are against the wall and I suggest we are at that stage now. What happens in the next couple of years will dictate the future our grandchildren will face. If we can manage to bring civility back into our discussions, the divide between us will shrink. Once that happens compromise will again be on the table and we will be on the road to recovery.